This page contains the current restoration status of the Grand and special notations for those donating services to the restoration effort. Followed by details of what still needs to be completed and the various phases of the project.
---
Current Update, as of January 2016:
Roofs are complete. 2011 and 2012

Heat is in the lobby, office and museum room. 2012

Lobby Restoration is complete. 2012

Asbestos Abatement is completed. 2013

All rubbish has been removed from the buildings. 2010 to current.

Office Restoration is complete and temporarily housing our museum of performing arts. 2014

Front Facade is 80% Complete. 2014

Front Facade of the Annex is Complete. 2014

New heat and electric service have been installed in the main theater. 2015
2016 Work includes:
Our Wurlitzer Pipe Organ has been donated back to the theater and is being restored and reinstalled. As of 2/17/17 we are about 3/4 complete.

Ballroom 1 is being cleaned, walls painted and floors refinished. This is about done and the ceiling and staircases are next. 1/31/16 Made possible by the PNC Charitable Trusts. More work is planned for 2017.

New stage floor was donated and installed by Byers Concrete, Jonathan Byers 740-632-8160. As of 12/31/16.

Pending Funding Plaster Restoration of the main theater ceiling and walls is in the first of 3 phases, this phase includes determination of what can be saved, what will be rebuilt and all the plaster decorative elements that are needed. Estimated cost including architectural work is $1,130,000. As of 2/17/17

Front facade lower portion will be worked on in 2017, including the area around the front doors and the 125 S 4th Annex Bldg.
Thank you to the JC Williams Trust; the Charles M Pugliese and Thelma M Pugliese Charitable Trust; Macy's and several individual donors for the Grants and donations that made the lobby restoration, office restoration and Front Facade restorations possible!
Thank you to Nelson Fine Art and Gifts for replacing our sign plastics with beautiful new signs.

Thanks to TS Electric and the membership of the IBEW for providing the electrical upgrade to the Office and Lobby and HVAC.

Thanks to Apex Landfill for allowing us to dispose of debris!

Thanks to Apollo Pro Cleaning for the donated mold remediation in the lobby and office. Air Excellence also donated to this clean up!

And thank you to YC Construction for repairing the walls and ceiling in the Lobby!
Here is a 1925 photo of the original facade this is our goal:
Grand Theater Restoration Project
1949 Dave Barnhouse "A Grand Night in Steubenville"

121
South Fourth Street

Steubenville

OH

The overall mission of this project is to save, restore and promote historic downtown Steubenville so that we can all enjoy its 226+ years of history. From its starting point at Historic Fort Steuben along the Ohio River, to the Mansions on North Fourth Street, shopping its historic storefronts downtown and dancing in the Grand Ballroom at the Fort Steuben Hotel, Steubenville has an amazingly rich and diverse history. Everyone living in Steubenville or has ever lived or visited here should be able to enjoy what we have today. To save it for our children to enjoy and to have many fond memories of it as well

The restoration committee has spent considerable time and discussion on how the Grand will fit in with the use of the two existing auditorium facilities downtown, those being the Masonic Temple and Steubenville Big Red's auditoriums. We all agree that we have beautiful facilities in both the Masonic Temple and Steubenville Big Red. The Grand and the future Grand Performing Arts Center will be unique to downtown and to the entire area. When you also include the Museum of Performing Arts that will utilize the left hand storefront as well as both floors of the Event Center, there is nothing like it here.

The main auditorium is and will be unique and very ornate. It is also a destination that will attract a lot of attention as a performing arts center. Both of these other auditoriums have been discussed several times, and together with the Grand can be used for many events. We all agree that we have other space but we have nothing like the Grand.

The future of Steubenville depends on a vibrant downtown and an arts and cultural resurgence that cannot happen without a focal point like the Grand.

When the Fort was proposed, many brought forward the same arguments….we can't afford it, we have enough ....and so the story went. But look at what folks have done. A lot of vision for the future, fund raising, hard work, craftsmanship, dedication, etc went forth and today folks from far and wide come to see Fort Steuben! We take a lot of pride in the Fort and many come to tour, and even more to enjoy the park every Thursday during the summer concerts, the annual festival in June and many other special times throughout the year.

We think it is way past time that we hold dear our history instead of always being so quick to tear things down. Think of the railroad station, Stanton's home, the ornate Capitol and Paramount theatres. Our goal is that we will all come together for the good of Steubenville , put pride back into the city, and see businesses coming back because of what we have to offer. It's time to save the Grand and let people have pride in our historic downtown once again.

We, who have a vision for the Grand, see the same end result. In addition, many businesses have come forward with donations and the promise that "if we build it, they will come"....we hope you will too.

The restoration project in detail:

The total cost of the restoration project from the current condition to finished and ready for an event in the main auditorium is estimated to cost $6,500,000. The restoration will be conducted in phases.

The eleven phases of the project will allow events to be held in the lobby and the first floor of the Grand Event Center after those phases are complete. This will allow use of the Grand for events before it is completely finished.

The Museum will utilize the left hand store front as an entrance and space and will continue on both the second and third floors of the event center.

The entire project will be completed as a "green" restoration, to minimize carbon footprint. Handicapped accessible to the entire first floor, second and 3rd floor of the event center, and mezzanine, will consider if access to the center of the balcony is possible. Fire suppression will be installed throughout, as well as the entire theater and event center being ADA accessible.
Sustainability of the Grand after completion:
The Grand Theater and Events Center will be one of the major economic drivers of downtown entertainment and performing arts traffic. Our goal is go get to opening day without any debt, thereby making sustainability easier to attain. Also by creating an endowment, we hope to grow that to the level where its income is sufficient to cover the operating costs of the theater and to even assist with programming.
Many groups will be utilizing the Grand in addition to original live performance and movie programming by the Grand staff :
Those include:
¨ The Performing Arts and Steubenville History Museum, open year round on three floors this will be a major and ongoing draw.
¨ Franciscan University of Steubenville Drama Department and Orchestra
¨ The Upper Ohio Valley Opera Guild
¨ The Center for Music and Art large events
¨ The Steubenville Art Association Shows in the Event Center
¨ Local High Schools
¨ Historic Fort Steuben Events
¨ The Downtown Steubenville Revitalization Group Events
¨ Weddings, wedding receptions and other formal and semi-formal events in the Event Center and main theater
¨ Political Events
¨ Exhibitions
¨ Auctions
A Restoration in Phases:
Our engineering firm is WBCM Pittsburgh Office, they have completed an thorough structural engineering review of the Grand and it is in overall good condition.
Our Architect is Dennis Madama, of Shaffer & Madama Wheeling WV, Dennis is a Steubenville Native very excited to be working on the Grand Project.
We completed a laser scan of the Theater in 2013, this is being used to create "as is" drawings for future changes. Also the scan is useful in analyzing the condition of the structure. Here is one image from the scanning:
Exterior:
1.

Roof Estimated at $125,000 the main roof was completed for $75,000.

We have also completed the roof on the Annex for $20,000. This phase was completed as of July 2011. Of all the bids we received only one was for the complete roof job, gutter, downspout and adjacent masonry repair. No other contractors provided a complete bid and many declined to do so.

The roofing system selected is the same system used on Playhouse Square in Cleveland, they have used this system since the 1970s and strongly recommended it. The system is an SPF (sprayed polyurethane foam), covered with a sealant. The sealant will be reapplied every 10 years.
2.

Front Façade estimate $161,000 as of July 2014 we have completed the Annex Facade and 80% of the Grand facade for $45,000. – The front façade will be stripped of paint, cleaned and restored.

All trim and windows will be restored and sealed to the weather.

In addition, preparation work for the new Marquee and lobby entrance will be included.

A new ticket booth is planned to replace the one that is missing.

More facade work will be completed in 2017.
Grand prior to any facade work. Lower part of the Annex prior to facade work.
Grand top 2/3 Competed 2014
Annex completed - Grand Cleaned 2013
3.
Marquee – $285,000, Wagner Sign Ohio -
Mark Wagner
|
President

Wagner Electric Sign Company
,

7135 West Ridge Rd.

Elyria, OH 44035


Ph - (440) 245-6540
Fx - (440) 233-6455
www.wagnersign.com/theater-marquee-signage/

A new marquee will be designed that will incorporate the 1920's original vertical "GRAND" and the 1950s horizontal signboard portion of the marquee across the entire front of the building, electric sign boards on the North and South ends and standard letter hangers on the front, along with the name of the Major Sponsor or Sponsors for whom the Grand will be named.
1920's Marquee 1940-50's Marquee
Interior:
1.

The Entrance and Lobby:

Estimated at

$364,000, 90% competed for $25,000, elevator, restrooms and door restoration not yet completed.
a. Full restoration to original look of the lobby.

b. Elevator to 2nd and 3rd Floors of the event rooms.

The elevator will now be in the annex building.

c. Restrooms on the main floor built into the right hand storefront, and into the annex building.

d. Concession Stand Added built into the right storefront

e. Exterior of lobby totally restored marble floor, doors, ticket booth

f. Interior access through the lobby to the bathrooms and the storefront on the left, to allow people to come into the museum and purchase a ticket and cross the lobby and go upstairs to the other exhibits.

Lobby 1935
Lobby 2014 Outer lobby 2014 partially restored
2. Right Facing Storefront: Right Facing Storefront: estimated at $248,000

completed except for stairs to 2nd floor ballroom for $15,000. Will be completed in 2017 with a Community Development Facade Grant.

a. This space will be used to house the new staircase to the second and third floors of the Museum and lounge and event area.
3. Left Facing Storefront: $168,000
a. Museum and History of Performing Arts in Steubenville.
b. History of the Grand and the other Theaters that were in town.
4. Second Floor of the Grand Event Center (the front building above the lobby) $120,000
a.
More of the Museum – Movie poster, memorabilia, a DJ booth and sound system for playing records, etc.
b.
Lounge and bar area for intermissions
c.
Restrooms
d.
Event space with small stage for mini-performances
e.
New main staircase, and fire exits.
f.
Second exit to theater mezzanine
2010 2014 new windows, ceiling gutted, everything cleaned out.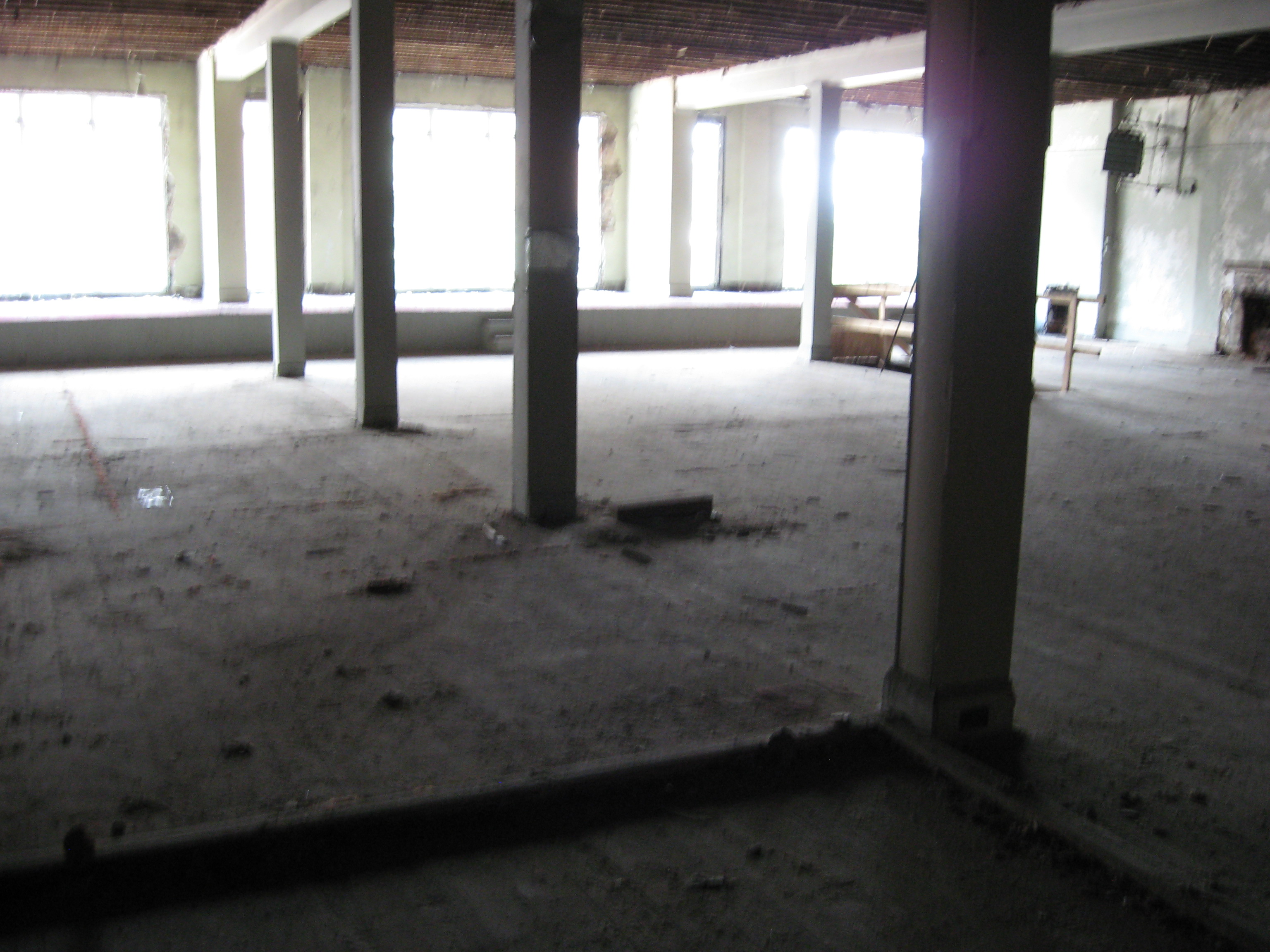 walls and floors refinished 2015.
5. Third Floor of the Grand Event Center $462,000
a.
More of the Museum – Movie poster, memorabilia, a DJ booth and sound system for playing records, etc
b.
Large open event center with restrooms for events up to 200.(tbd)
c.
New fire exits
2014 new windows, ceilings gutted and everything cleaned out.
6. Projection Booth, Lighting and Sound: $500,000
a.
Upgraded with new projectors and digital along with new sound system
b.
New spotlights for performances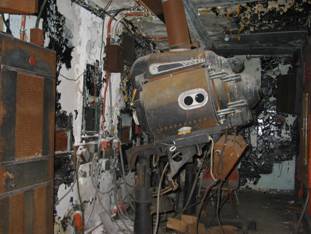 7. Main Floor, Balcony and Mezzanine: $2,791,000, as of 2014 the space has been cleaned, all seats removed, asbestos abated and HVAC is planned. Asbestos was abated with an Ohio Clean Funds Grant to the City of Steubenville. Temporary Heat and New Main Electrical Service was installed with a State of Ohio Capital Bill Grant.
a.
Decorative plaster ceiling and walls repaired and/or replaced,

$875,000 is pending funding. Flat plaster will be done separately.
b. Seating repaired and replaced as needed
c.
Mezzanine restrooms made into storage with new restrooms located in the event center off the mezzanine.
d.
All fire exits repaired
e.
Fire suppression throughout
2010 2014
8. Stage: $633,000
a.
New stage floor, donated and completed by Byers Concrete in 2016.
b.
Handicapped ramp access to stage up left side and to outside and new handicapped accessible bathroom/dressing room somewhere near dressing rooms or other side
c.
Dressing rooms rebuilt

on the other side of the theater handicapped accessible.
d.
New lighting and backdrop area restored
e.
New curtains and screen
f.
Venting for heat build up above stage area.
2
010
2014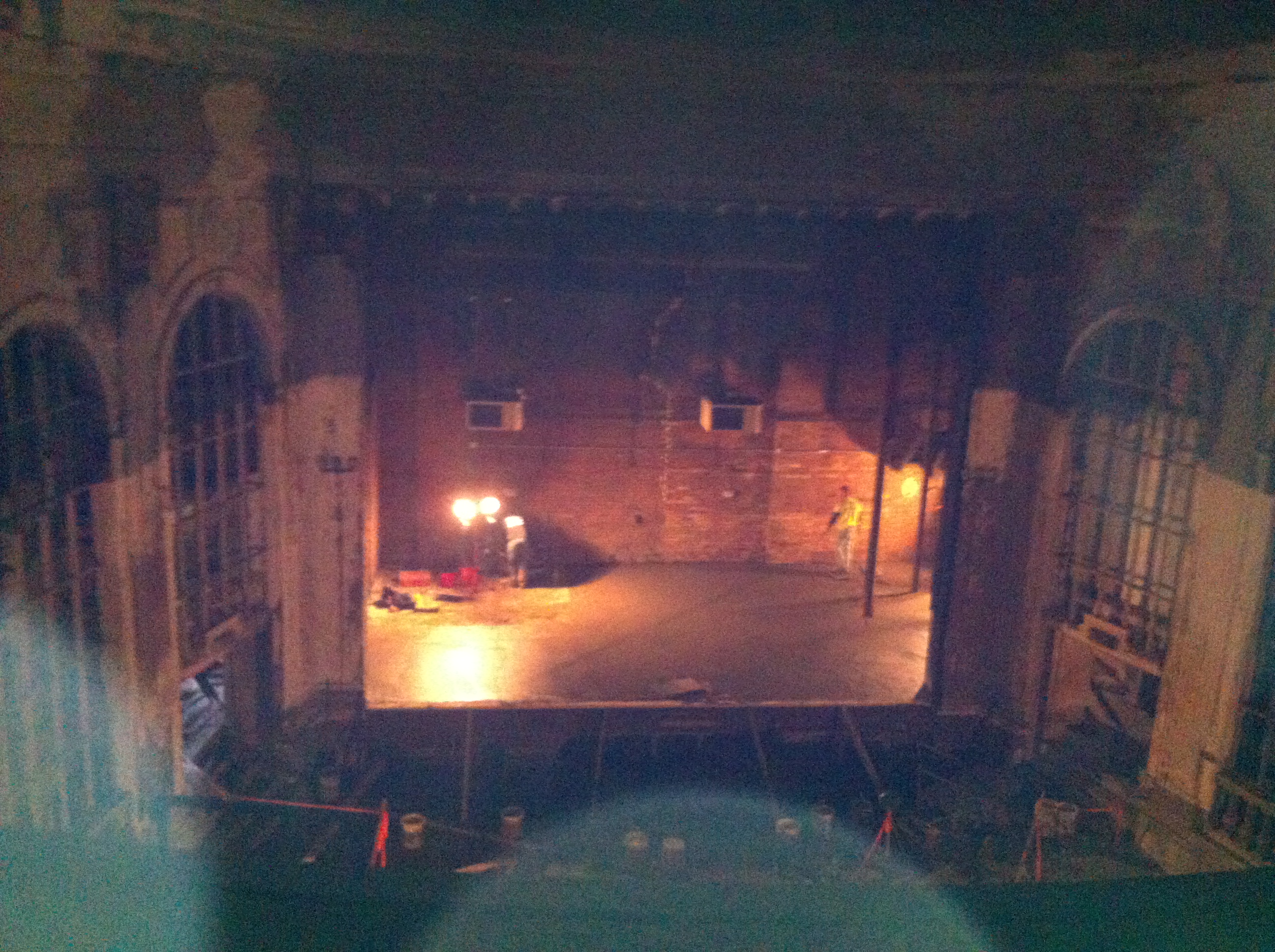 2016
New Stage Floor 2016 Thanks To Byers Concrete! 740-632-8160, Jonathan Byers.
Demographics:
Within 50 miles of the Grand Theater there is a population of over 12 million. There are about 80,000 within 15 miles. Attached is local and regional demographic data for the Population by Age and Gender, also Income and an Income Profile. Much like the Capital Theater in Wheeling , the Grand, depending on the event scheduled could draw attendance from a 30 mile radius quite easily. Further for more special events and just from Steubenville for local high school Events.
Demographics within 10 to 15 miles:
Demographics Summary - Local

Toronto

Steubenville

Wellsville

Brooke

Hancock

Population

Total Population:

5,339

18,864

4,133

23,520

30,008

Male

2,608

8,770

1,922

11,454

14,494

Female

3,068

10,094

2,211

12,066

15,514

Age 18 Plus

4,380

14,988

3,047

19,172

23,976

Age 65 Plus

1,018

4,229

660

3,738

4,507

Median Age

41

43

36.6

44

42.8

White

97.6 percent

79.6 percent

90.6 percent

97.4 percent

96.1 percent

Other

2.4 percent

20.4 percent

9.4 percent

2.6 percent

3.9 percent

Households

Total Households:

2,315

8,342

1,847

10,396

13,678

Average Family Size

2.9

2.86

3.02

2.36

2.4

Income/Age/Gender

Average Income:

$28,376.00

$36,597.00

$26,918.00

$32,994.00

$39,347.00

Male/Female Ratio:

45.9 M/54.1 F

46.4 M/53.6F

46.5 M/53.5 F

48.6M/51.4F

48.3 M/51.7 F

Housing, Family Type

Total Units:

2,490

8,459

1,922

11,207

14,866

Married Couples

29 percent

40 percent

53 percent

49 percent

47.5 percent

Male household

3 percent

4.2 percent

5.1 percent

6 percent

7.1 percent

Female household

9.2 percent

14.9 percent

12.2 percent

13.1 percent

12.9 percent